Online Parenting Class
Love and Logic
The interactive online parenting class utilizes the Parenting the Love and Logic Way Curriculum where parents will discover that their jobs can be really enjoyable, and that they can teach personal responsibility and respect without losing their kids' love. Class facilitators will guide participants through the Parenting the Love and Logic Way videos and workbook.
Through this program parents will learn how to:
Avoid un-winnable power-struggles and arguments
Set enforceable limits
Avoid enabling and begin empowering
Help their kids learn from mistakes rather than repeat them
Raise kids who are family members rather than dictators
And much more!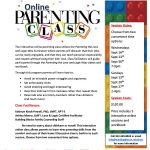 Online Breast Cancer Class
Making Lemonade
Building Blocks Family Counseling is offering a 4 hour online class for adults dealing with breast cancer and its effects on daily life. This course will offer strategies and tools for how to address the emotional piece to healing after a diagnosis. Participants will have the opportunity to learn and practice these coping skills in a therapeutic and safe environment.
Key areas that will be addressed:
The purpose of Emotions
Irrational versus Rational Thinking
Acceptance, and how to Get There
Being Present in Life's Moments
Reconciling the Past and Facing the Future
Applying what we learn to Real Life and Live