Level Up
Using video games to connect with your clients.
This workshop aims to give you new ideas on how to utilize videos games as a way to connect, communicate, and create an environment that promotes more positive emotions, stress management, and resiliency.
This event has been approved by APT for 3 Contact CE Hours.
August 27, 2021 9am-12pm, Online Training
Through this program participants will be able to:
Describe how to use video games to build rapport with play therapy clients
Create play therapy intervention that incorporates video games
Discuss potential ethical concerns regarding the use of video games
Demonstrate how to use video games to facilitate powers of play & communication
Create an environment for play therapy clients
And much more!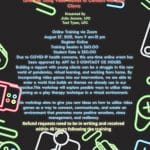 Online Training
High Conflict Divorce: A Model For Child-Centered Reunification Therapy
For anyone who has worked with High Conflict Divorcing families and has been frustrated in how to help. Child-Centered Reunification therapy uses a unique two-therapist approach, equally representing the parents and child, and integrates parent education, co-parenting skills, mental health education filial play therapy, and experiential therapy.
This course has been approved by APT for 6 CONTACT CE HOURS.
September 24, 2021 9am-4pm Online
Through this program participants will be able to:
Define reunification, appropriate clients and children
Define Child-centered reunification process and goals
Identify how to work with trauma in CCRT
Outline and discuss the process of Filial Therapy
Outline process of closing the CCRT case with success
Discuss clinical issues in CCRT and how to approach them
Outline follow-up post-discharge