Online Parenting Class
Love and Logic
The interactive online parenting class utilizes the Parenting the Love and Logic Way Curriculum where parents will discover that their jobs can be really enjoyable, and that they can teach personal responsibility and respect without losing their kids' love. Class facilitators will guide participants through the Parenting the Love and Logic Way videos and workbook.
Through this program parents will learn how to:
Avoid un-winnable power-struggles and arguments
Set enforceable limits
Avoid enabling and begin empowering
Help their kids learn from mistakes rather than repeat them
Raise kids who are family members rather than dictators
And much more!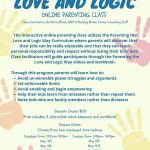 Online Training
High Conflict Divorce: A Model For Child-Centered Reunification Therapy
For anyone who has worked with High Conflict Divorcing families and has been frustrated in how to help. Child-Centered Reunification Therapy is designed to give children a voice in the reunification therapy process. Child-Centered Reunification therapy uses a unique two-therapist approach, equally representing the parents and child, and integrates parent education, co-parenting skills, mental health education filial play therapy, and experiential therapy. Throughout the conference participants will gain knowledge in the CCRT theoretical foundations, process, and techniques of Child-Centered Reunification Therapy.
Through this program participants will be able to:
Define reunification, appropriate clients and children
Define Child-centered reunification process and goals
Identify how to work with trauma in CCRT
Outline and discuss the process of Filial Therapy
Outline process of closing the CCRT case with success
Discuss clinical issues in CCRT and how to approach them
Outline follow-up post-discharge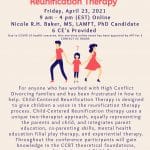 Play Therapy 101
Taking the Stress Out of Play Therapy!
April 2nd, 2021 9am-12pm, Online Training
If you are interested in working with children, you would benefit from training in the Therapeutic Powers of Play.
This workshop will cover some basics about the theories behind play therapy including psychoanalytic, behavioral, child-centered, and ecosystemic.
This event has been approved by APT for 3 Contact CE Hours.