Online Parenting Class
Love and Logic
The interactive online parenting class utilizes the Parenting the Love and Logic Way Curriculum where parents will discover that their jobs can be really enjoyable, and that they can teach personal responsibility and respect without losing their kids' love. Class facilitators will guide participants through the Parenting the Love and Logic Way videos and workbook.
Through this program parents will learn how to:
Avoid un-winnable power-struggles and arguments
Set enforceable limits
Avoid enabling and begin empowering
Help their kids learn from mistakes rather than repeat them
Raise kids who are family members rather than dictators
And much more!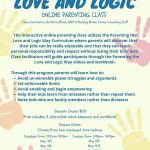 Play Therapy 101
How To Become A Registered Play Therapist – Stress Free!
February 19th, 2021 9am-12pm, Online Training
If you are interested in working with children, you need special training to become a registered play therapist. Sitting down and talking to a child is not an effective method for counseling with younger and even older children.
Kids are physical than verbal and play therapy promotes emotional intelligence and behavioral integration.
Earn 3 CEU's!